Every company needs to have proper insights in the hours spent on tasks. Without this time registration, management is not able to steer on important KPI's like productivity or direct and indirect costs. For many types of companies time registration is the basis for invoicing clients.
There are many different tools for time registration. So, why did we decide to develop our own solution, you might ask? The plain and simple answer is that many solutions are point solutions that do not integrate with other platforms and even require additional login to the specific tools.
We deliver a solution that is fit for purpose and available via the same single sign-on to the user is already logged in. We supply a fully open solution that is highly configurable and very easy to use. Projects and tasks can be assigned to only member of the project and assigned task members can write hours.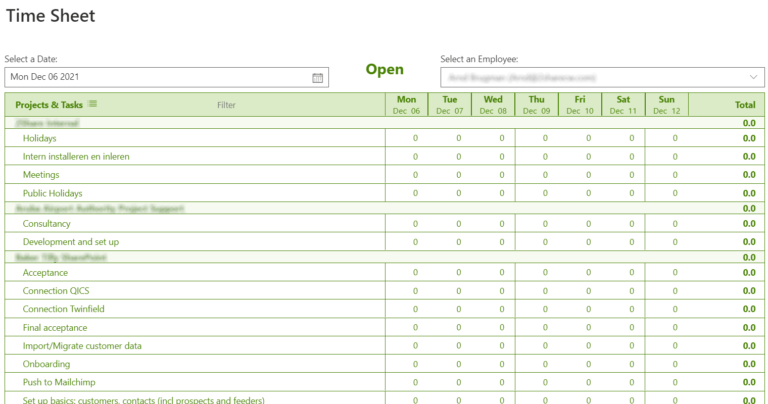 Time registration has the following functions:
Project and Task configurator

Projects (optionally linked to Customers and Customer-Contacts)
Tasks and sub tasks with types of tasks (of course, tasks are recursive, so you can have subtasks on each level)

Hours on task for detailed registration
Week timesheet for easy registration
Submit week sheet for review
Approve week sheet by the registered manager
Start/stop a task to record time worked on task
Standard dataset to be used in Power Bi reports
Clear statuses for entry, approval and invoicing